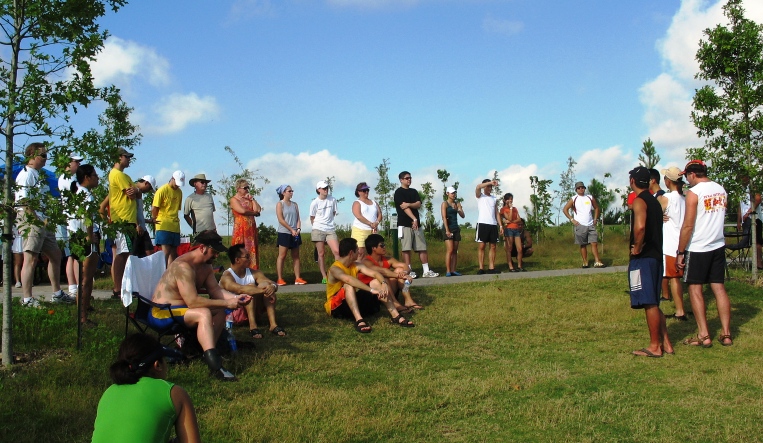 Houston Heat's 1st Kick Off (June 2006)
 The Dragon Boating community is still relatively small in the United States; however, it's the second fastest growing sport in the world. The city of Houston is honored to be part of this phenomenon as we've established the first year-round dragon boat club — the Houston Heat!  We train to compete in local, national and international events and hope to spread the rich cultural history the sport has to offer, all while trying to be good ambassadors of the city and having FUN!
Members of Houston Heat will gain and benefit from what the club has to offer. We are looking for interested, motivated, and dedicated paddlers who are seeking the 'Perfect Stroke', Dragon Boat Style that is! We're also recruiting those who enjoy the spirit of Dragon Boating among our members/peers. There's no excuse not to join!
Membership has many benefits, but are not limited to the following:
Join one of the most exciting clubs Houston has to offer.

Increased knowledge through training from our experienced coaches (technique, drills, mental preparation, and much more).

Opportunity to learn how to steer a Dragon Boat.

Discounts on Personal Flotation Devices (PFDs) and Paddle equipment.

A chance to gain experience at the local, national, & international level.

Assess your performance against fellow paddlers .

Insurance coverage against water practice/dragon boat equipment (i.e. paddles and boat).

Bringing Awareness and Involvement to Houston's waterways .

Healthy attitude, healthy body.

Friendship, Bonding, and Camaraderie.

Community involvement on and off the water.
Houston Heat's Regular Season begins in late-February and ends at the end of October. Our practices are typically scheduled early Saturday mornings in Clear Lake or Sugar Land (please view the home page of the website for actual dates and times). As we train for competitions, our land/water practices will increase to prepare for VICTORY! Members and Non-Members will need to register online for ALL events/practices so that the coaches can prepare for the number of attendees.
Guests will be given two FREE water practices*. The following water practices will require either the annual membership amount or a one-time, 30-day unlimited practice trial membership for $30 with subsequent practices at $15 each.
*However, one month prior to any local event, the two free water practices will be suspended.  There will be a $15 fee for all guests and non members at all water practices.
The 2023 membership due is $250.   There will be a one-time $20 administrative charge for new members.
To become a Houston Heat member:
Read the Houston Heat Code of Conduct (

PDF

)
To contact someone about becoming a member of Houston Heat, click here. Or, send an email to houstonheatdragonboat@gmail.com.